Press Releases

2022.03.29
WEBTOON LAUNCHES THE 2022 CALL TO ACTION CONTEST & SEARCH FOR THE NEXT HIT ACTION SERIES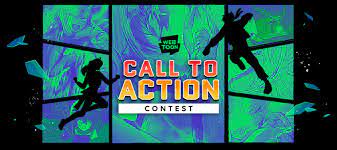 WEBTOON LAUNCHES THE 2022 CALL TO ACTION CONTEST & SEARCH FOR THE NEXT HIT ACTION SERIES
- Creators can win up to $50,000 and a chance to join WEBTOON ORIGINALS
WEBTOON, the world's largest digital comics platform, is looking for heroes, latent super abilities, and rising power levels for the 2022 Call to Action Contest! WEBTOON's 2022 Call to Action Contest allows comic creators to submit original, action-packed digital comics for a chance to win prizes of up to $50,000 and a WEBTOON ORIGINALS spot alongside some of the biggest names in action and shōnen on WEBTOON. Submissions open on June 1, 2022, and creators can submit their work on WEBTOON.
The action and shōnen categories are some of the most popular categories in comics, manga, and animation. Today, a new generation of action comic fans turn to WEBTOON to find the biggest and best adventures in the genre. WEBTOON has emerged as one of the most exciting sources of new action comics, with titles like Doom Breaker (1+ billion views) building a global fandom for its sword-wielding, doom-breaking hero, and smash hits like unOrdinary reaching more than one billion views on platform. WEBTOON's industry-leading roster of global action sensations also include titles like Tower of God (6.2+ billion views) and The God of High School (4.8 billion views), which have captivated audiences as hit anime adaptations on Crunchyroll and HBO Max.
Action comics and adjacent categories in anime have become hugely popular across the mainstream pop culture landscape in recent years, with Marvel and DC debuting blockbuster comic adaptations to record-breaking box office numbers. The film adaptation of manga series Demon Slayer set a box office record in Japan and retains a huge U.S. following; creator Koyoharu Gotouge was honored on the TIME 100 Next List in 2021--the first occasion a manga artist has made the list. According to Parrot Analytics, the action anime series Attack on Titan was one of the most in demand series in the world in 2021.
"For many comic fans, superpowers and battling evil are the foundational formula for an exciting story," said David S. Lee, Vice President of Content, WEBTOON U.S. "WEBTOON creators have brought incredible new energy, creativity, and diversity to action comics, giving fans a new generation of heroes to cheer for. Great ideas and content can come from anywhere, and we can't wait to see what thrilling adventures WEBTOON creators submit for the 2022 Call to Action Contest."
Submissions will be open from June 1 to July 31, 2022, WEBTOON's panel of judges will announce winners on Sept. 30. Prizes for the contest include new series offers, cash prizes, and opportunities to have their work turned into an animated video:
Top Three Prizes: The top three winners will receive offers to become WEBTOON ORIGINALS creators, as well as cash prizes. First place will win $50,000, a Clip Studio Paint EX license, and have their story adapted into a short shonen-style animated video; second place $30,000 and a Clip Studio Paint EX license; and third place $20,000 and a Clip Studio Paint EX license.

Additional Prizes: Fourth to tenth place finalists will receive a cash prize of $5,000 each and a Clip Studio Paint EX license.

Honorable Mentions: The Top 10 Honorable Mentions will each receive a Clip Studio Paint EX license.
Full contest terms and entry conditions are available on WEBTOON.
About WEBTOON
WEBTOON® is the world's largest digital comics platform, home to some of the biggest artists, IP, and fandoms in comics. As the global leader and pioneer of the mobile webcomic format, WEBTOON has revolutionized the comics industry for comic fans and creators. Today, a diverse new generation of international comic artists have found a home on WEBTOON, where the company's storytelling technology allows anyone to become a creator and build a global audience for their stories.
With a massive catalog of incredible digital comics from rising stars on WEBTOON CANVAS platform, and a growing roster of superstar WEBTOON Originals creators, there's something for every type of comic fan on WEBTOON. With an average of 82+ million monthly active users, and WEBTOON adaptations on Netflix, HBO Max, and other screens around the world, WEBTOON's passionate fandoms are the new face of pop culture. The company has worked with DC Comics, Marvel Entertainment, HYBE, and many more of the world's biggest entertainment brands.
The WEBTOON app is free to download on Android and iOS devices.