Press Releases

2022.06.23
WEBTOON and DC Announce Launch Dates for Zatanna & The Ripper and Red Hood: Outlaws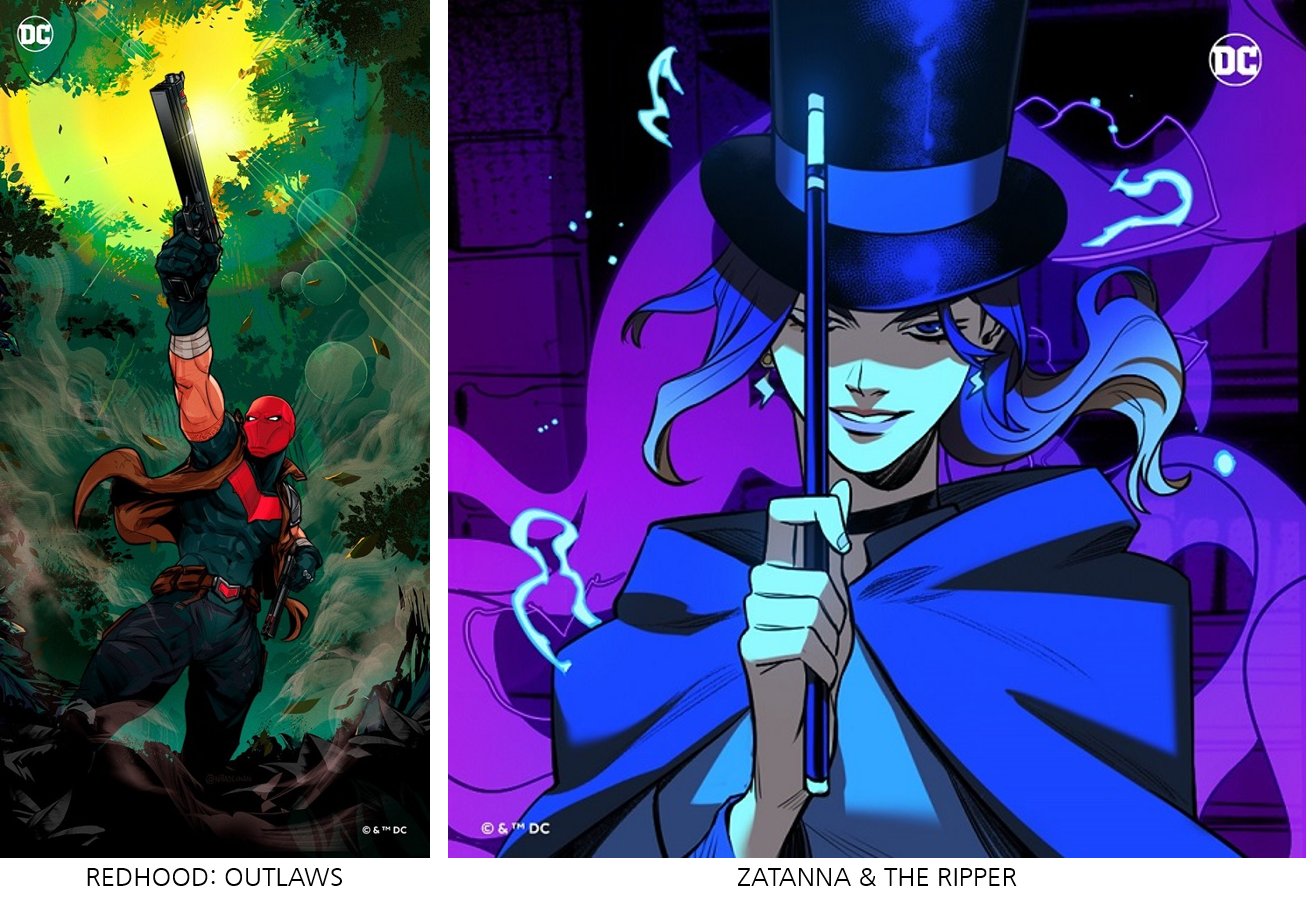 WEBTOON and DC Announce Launch Dates for Zatanna & The Ripper and Red Hood: Outlaws
- The titles are the latest in a slate of hit comics from DC and WEBTOON, including the Eisner-nominated Batman: Wayne Family Adventures
WEBTOON, the world's largest digital comics platform, and DC today announced launch dates for two highly-anticipated digital comics set in the DC Universe. Exclusively available on WEBTOON, Zatanna & The Ripper will launch on July 11, followed by Red Hood: Outlaws August 14. The companies announced the new series launch dates today at the 2022 Collision Conference.
Red Hood: Outlaws and Zatanna & The Ripper are the latest series in an ongoing creative partnership between WEBTOON and DC. The partnership was first announced in August 2021, bringing iconic, globally-recognized characters from the DC Universe to WEBTOON's audience of 82+ million monthly readers worldwide. The content collaboration kicked off with the launch of the newly Eisner-nominated, smash-hit collaboration Batman: Wayne Family Adventures in September 2021, followed by Vixen: NYC in May 2022.
Details on the upcoming series are as follows:
Zatanna & The Ripper (July 11), written by Sarah Dealy and lead artist Syro
Giovanni Zatara is one of the world's most talented magicians. His daughter Zatanna, on the other hand, is among the world's most powerful. On her 21st birthday, Zatanna witnesses a fight between her father and the sorceress Allura. Before Allura can get to his daughter, however, Giovanni blasts Zatanna far away-to London, England...in the 1800s. Zatanna tries to use her burgeoning magic to return home, but fails. What she can do, however, is pull things out of the future (and past). So her small, 19th century room is now filled with modern gadgets. It seems she'll be stuck forever until an old friend finds her—John Constantine. Recognizing him from her past—or her future, he tells her he knows how to get her home. They'll have to solve the Jack the Ripper murders. To make matters worse, Zatanna also quickly learns that she's among the Ripper's targets.
In a gritty but magical journey (with a healthy dab of romance), Zatanna and John Constantine join forces to find and unmask Jack the Ripper.
​Red Hood: Outlaws (August 14), written by Patrick R Young with art by Nico Bascuñán
The Outlaws try to go legit—and fail spectacularly. The Justice League has issued a challenge to Red Hood, Artemis of Bana-Mighdall, and Bizarro, who have to try and replace their goody-two-shoe counterparts as the heroes the world neither deserves nor needs.
In this original series, the Outlaws will battle some of DC's biggest Super-Villains and Super Heroes—but their biggest battles are among themselves. Can this team last? And can they find their own identities separate from Batman, Wonder Woman, and Superman?
Marie Javins, Editor-in-Chief of DC, said, "We're excited to continue expanding DC's storytelling, with fun, out-of-continuity stories featuring our characters in different worlds and genres, that any fan, whether new to DC or not, can dive into."
"Our collaboration with DC continues to bring some of the most exciting characters from the DC pantheon to a new generation of comic fans, complete with fresh storylines and new takes on classic heroes," said David Lee, VP of Content at WEBTOON. "Our work with DC has seen incredible support from fans and industry peers, and we can't wait to share the latest series with readers."
WEBTOON has made waves around the world for its success bringing digital comics into the mainstream, particularly among younger audiences; Gen Z readers make up the majority of WEBTOON readers in the U.S. The platform has been the source of a stream of hit adaptations for Netflix, including All of Us Are Dead, Hellbound, The Sound of Magic, and Sweet Home. All of Us are Dead spent 11 weeks in the Netflix global Top 10 (Non-Eng Series) on Netflix, and the streamer recently announced a second season. Other global WEBTOON sensations include New York Times bestsellers Lore Olympus by Rachel Smythe, and Miriam Bonstre Tur's WEBTOON phenomenon Hooky.
About WEBTOON
WEBTOON® is the world's largest digital comics platform, home to some of the biggest artists, IP, and fandoms in comics. As the global leader and pioneer of the mobile webcomic format, WEBTOON has revolutionized the comics industry for comic fans and creators. Today, a diverse new generation of international comic artists have found a home on WEBTOON, where the company's storytelling technology allows anyone to become a creator and build a global audience for their stories.
With a massive catalog of incredible digital comics from rising stars on WEBTOON CANVAS, and a growing roster of superstar WEBTOON Originals creators, there's something for every type of comic fan on WEBTOON. With an average of 82+ million monthly active users, and WEBTOON adaptations on Netflix, HBO Max, and other screens around the world, WEBTOON's passionate fandoms are the new face of pop culture. The company has worked with DC Comics, Marvel Entertainment, HYBE, and many more of the world's biggest entertainment brands.
The WEBTOON app is free to download on Android and iOS devices.
About DC
DC, a Warner Bros. Discovery Company, creates iconic characters, enduring stories, and immersive experiences that inspire and entertain audiences of every generation around the world and is one of the world's largest publishers of comics and graphic novels. As a creative division, DC is charged with strategically integrating its stories and characters across film, television, consumer products, home entertainment, interactive games, and the DC Universe Infinite digital subscription service and community engagement portal. For more information visit dccomics.com and dcuniverseinfinite.com.